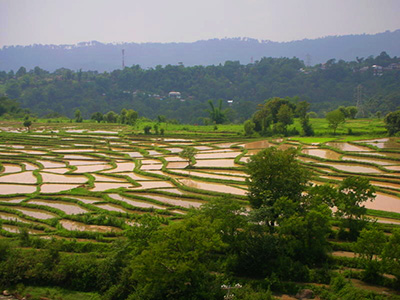 Kangra is the most beautiful and famous city of himachal pardesh. The municipal council in Kangra district in the Indian state of Himachal Pradesh. Historically it was known as Nagarkot. Kangra is located at 32.1°N 76.27°E.[6] It has an average elevation of 733 metres (2404 ft). The district of Kangra extends from the Jalandhar Doab far into the southern ranges of the Himalaya. It is a town at the confluence of the Bener River and Majhi River, and Beas is an important river here.
Famous Attractions
Chamunda Devi Temple: Chamunda also known as Chamundi, Chamundeshwari and Charchika, is a fearsome aspect of Devi, the Hindu Divine Mother and one of the seven Matrikas (mother goddesses). Chamunda Devi temple is located in the Kangra district of Himachal Pradesh, around 10 kilometres (6.2 mi) west of Palampur, is the renowned Chamunda Devi Temple.
Dhauladhar Ranges from Palampur: Dhauladhar mountains is the major & beautiful tourist attraction of Kangra District. The elevation of the Dhauladhars ranges widely from 3,500 m to nearly 6,000 m. From the banks of the Beas river in Kulu, the range curves towards the town of Mandi.
Garden at Kangra Fort: The Kangra Fort is also a popular attraction for tourist.
Neugal Cafe, Palampur: Neugal Cafe is the most visited place in the palampur. It is one of the great attractions in the town from where you can have an endearing view of the Dhauladhar mountains as well as the Neugal khad.

Baijnath Temple: The very famous ancient temple of Lord Shiva (Baijnath) is situated in in Kangra district of Himachal Pradesh. It is about 50 kilometres from Dharamshala, which is believed to be one of twelve jyotirlingas according to popular legends also giving the town its name.
Bajreshwari Temple: Bajreshwari Temple is famous temple is located in Kangra district of Himachal Pradesh.
Jwalaji Temple: The best known Jwala Ji shrine is located in the lower Himalayas in Jawalamukhi town of the Kangra district of Himachal Pradesh state of India, about 55 kilometers from the larger town of Dharamsala.
McLeodganj: McLeod Ganj is a suburb of Dharamshala in Kangra district of Himachal Pradesh. McLeod Ganj was named after Sir Donald Friell McLeod, a Lieutenant Governor of Punjab.

Ashapuri Temple: Mata Asahpuri temple is very famous temple in Distt Kangra. It is located at the top of hill.

Baba Baroh Temple: Baba Baroh is located 23 km from Kangra. It is a tehsil in Kangra district known for a temple made of white marble to Radha Krishan and the Goddess Durga. This temple is famous for the largest amount of white marble.