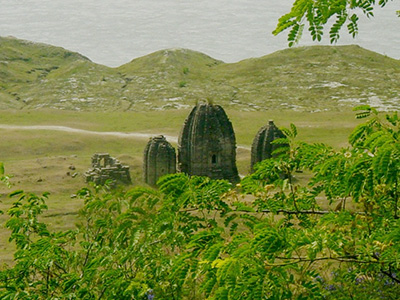 The old name of Bilaspur was Biaspur, is situated at the Satluj river and the distance of about 60 Km due northwest of Shimla. The Satluj river enters this district at the village of Kasol and after taking a tortuous course of over 56 miles, it enters Hoshiarpur district in Punjab. Bilaspur is located at 31.33°N 76.75°E.[2] It has an average elevation of 673 metres (2208 feet).It lies at foot of Bandla Hills. It lies near the reservoir of Govind Sagar on the Sutluj River. It is first major town after entering himachal on way to manali.

Famous Attractions
Naina Devi Temple: The temple of Naina Devi is situated in the Bilaspur Distt. The temple is connected with National Highway No. 21. The Temple at the hilltop people can be reached via road and also a cable car facility that moves pilgrims from the base of the hill all the way to the top.
Bhakra Dam: Bhakra Dam is a concrete gravity dam across the Sutlej River, and is in Bilaspur, Himachal Pradesh in northern India. The dam, located at a gorge near the upstream Bhakra village in Bilaspur district of Himachal Pradesh. The dam, at 741 ft (226 m), is one of the highest gravity dams in the world (compared to USA's largest Hoover Dam at 743 ft). Construction of the dam started in 1948, Jawahar Lal Nehru poured the first bucket of concrete into the foundations of Bhakra on 18 November 1955 [3] and the dam was completed by the end of 1963. Successive stages were completed by the early 1970s.
Bandla Dhar: Bandla Dhar is a mountain, hill located in Bilaspur Himachal Pradesh.

Govind Sagar: Gobind Sagar is a man-made reservoir situated in Bilaspur District, Himachal Pradesh. The reservoir on the river of Satluj, was formed after at Bhakra Dam was constructed and has been named in honour of Guru Gobind Singh, the tenth Sikh guru.

Vyas GufaVyas Gufa is the most famous tourist spot and the oldest religious place in Bilaspur. The cave situated on the bank of river Sutlej.
Kandrour Bridge (The highest bridge of Asia): Kandrour Bridge is 8 kilometres from Bilaspur on National Highway No-88, across the river Satluj. The highest bridge of Asia. The bridge was opened by Shri Raj Bahadur, Minister of Transport in 1965.
Luhnu Cricket Ground: Luhnu Cricket Ground is a stadium located in Bilaspur.
Deoli Fish Farm: Deoli Fish Farm is Comprising 4.4 hectares comes in existence 1962. It consists of two big brood stock tanks and 14 nursery ponds.